Humanity now stands at the edge of another set of global issues. The urgency of millennial challenges prompted nation states to adopt the Millennial Development Goals in the early 2000s. Immediately prior to their expiration in 2015, a new wave of technological, political and social turmoil was on the rise – far exceeding the pace of changes ever recorded in human history. However, humanity soldiered on by enacting the UNDGs in 2015, with beaming hope to curtail global problems in the next 15 years. More recently, the climate changes have become the talk of the town, from youth – the heir apparent of UNSDGs – to world leaders frantically putting safety net to their economies and social make. How does the future of climate change and its effects on Africa look like? How is the global community helping Africa to emerge, amidst this labyrinth of challenges?
The 21st century is host to many interconnected global challenges. Climate change is one of them, but its effects have also triggered a new type of refugee – climate refugees. Greatly caused by natural resources scarcity or climate change-related disasters. Climate change has led to a poor nation state to become poorer. Across the media, many sceptics are of the opinion why would Africa be found again on the receiving end yet it's contributing marginally to the CO² Emissions? Is there hope or anything that can come out of Africa? At African European Fellowship, we believe there is hope if solutions to Africa's challenges are bundled with the latest technology and human approaches. The below image list Global Top 15 Emitters of CO². Africa represented by South Africa – the gateway to the African economy – is contributing a meagre 1.3% of all global emissions.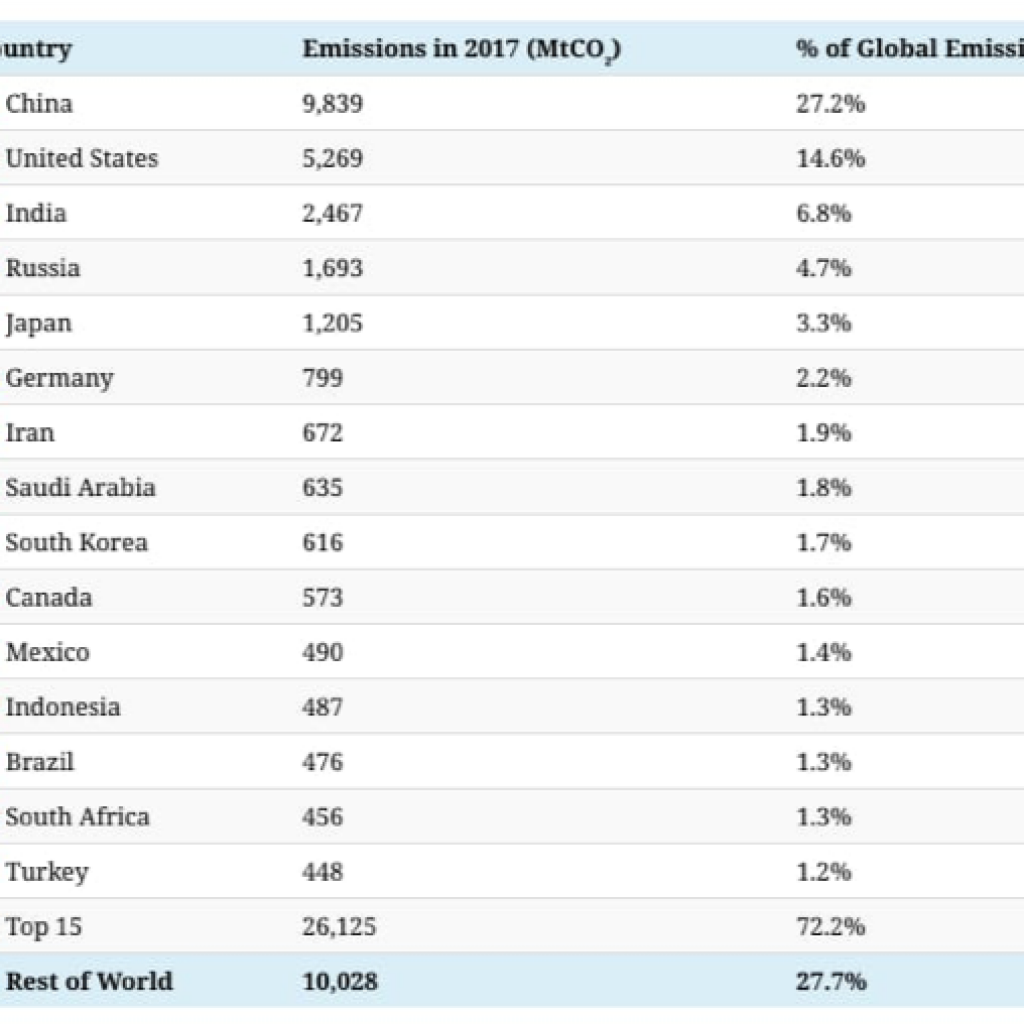 Beyond the numbers, Africa is eager and proactive to solve the current climate malaise. Africa has already felt the vibration already. Persistent drought has stroked Southern African like Zimbabwe, who before the turn of the century was renowned as the breadbasket of Southern Africa. Its flourishing agriculture and marketing gardening exports could be seen flowering the romance moments of London. However, it's 20th glory has dwindled to a 21st-century pauper. With erratic rainfall on its soils, it is estimated about 2 million people will be in need of food assistance.
 As fate would have it, earlier in the year she was stricken by a Cyclone Idai (a hurricane as it is known in other parts of the world). Mozambicans and Malawi we're among the affected, as the flash flood ran to spill tides into the Indian Ocean. About 500 people died, all put together. Due to the poor economic and political stalemate in Zimbabwe, the business world, religious groupings and the international community did the most. From disaster rescue operations, air and ground, to immediate repair and clearance of rural bridges were also carried out. This was an immediate response to the possible scare of diseases such as cholera that could occur if the situation was left unattended. And the hunger to victims who had virtually lost any economic getting and house swept by floods.
Opportunities for Digital Technology Companies
Just as one problem leads to the other. Technology, not necessarily the latest and trendy, has the ability to notify, assess and mobilize rescue in real time so that many problems can be addressed in one goal. For example, innovative players like Econet Wireless Group, Zimbabwe's telecoms giant reached out to Zimplats, another giant in the mining industry, forged a Sustainable Innovation partnership that had never been seen on African soil. Econet, alone, intended to build more resilient houses, roads and schools for the victims. This meant the rural folks who once lived in huts would have sunshine of existence in a better brick-and-mortar house. As innovation would have it, they knew the power of many is better than one. The founder, Strive Masiyiwa, endowed with innovative capital of resourcefulness, advised his CEO to expand their coast and partner with other private Businesses. The result was of such partnership was profound and groundbreaking: the same mountain boulders the rolled downhill destroying houses that stood its way will be blasted to make the strongest ever "rock bricks" and build back the houses. One can't help, but marvel at what can come out of UN SDG 17: Partnering for Goals!
Other tech giants such as Microsoft, Facebook and Palantir also descending to Africa in jet speed to capture a market out of incessant disasters. Microsoft is geared to offer Blockchain platform on the demand side of disasters. For instance, the victims who were permanently or temporarily whisked to non-flooding regions, which could be other towns, cities and countries, may find themselves as destitute without some form of identity, or proof, therefore. It is estimated 140 million will be displaced by climate change. Data firms are coming with Blockchain facilities that store verified "world-moving" identifies, in the event of theft, loss, or not having had one before.  The supply side entails that donors will exactly know who they are donating to and if the right target group. In the long run, Africa's traditional problems around corruption in the philanthropic chain are ameliorated. And the ensuing efficient distribution of resources.
We believe Africa has resources, that if properly harnessed with sustainability, we will be a less needy "welfare state" in the long run. By some estimates, Africa's population growth by 2035 will be enough and excess labour exported to other continents such as Europe, with ageing population and acute low birth rate per family. In contrast, African families average at least 4 children per birth-giving women.
It's apparent that Africa will need more digital skills in cloud computing, and programming for new avenues of employment and/or operate niche areas which Big Data Players won't provide.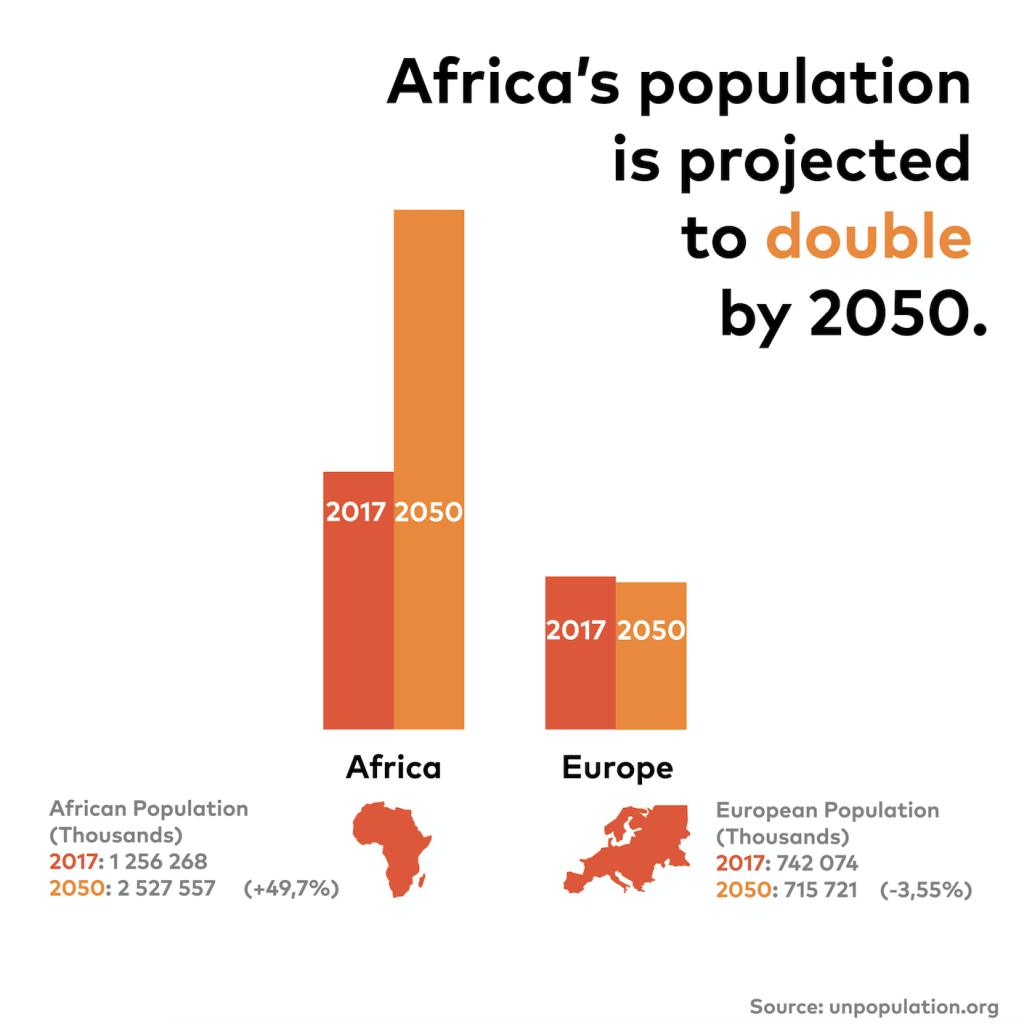 Opportunities for African Governments
The opportunities around disaster and relief are bounty in Africa, in so much that locals can't provide for everything. Likewise, African governments have to roll out flexible policies around entrepreneurship and sincerely engage in meaningful Private, Public, Plural Partnership. One major aspect of addressing the climate change in Africa is not about shifting blame to 1st world countries, but identify its underused resources such as public universities, and respecting intellectual property around native (Africans' own) inventions. For example, Zimbabwe's Midlands State University was recently funded to the tune of £300 00 to commence research on chemical technology that captures and reduce carbon in the atmosphere. The carbon is can be used to create formic acid and methanol. Formic acid, for instance, can be used in the pharmaceutical industry to make drugs. Dr. Mehlana, the researcher behind the initiative, says the outcome of his project has impact and alternative use cases. In agriculture, the economic bedrock of Africa, it remains to be seen how the initiative will subtend smallholder and large scale commercial farming.
Furthermore, a lack of an international body that will manage mass exodus of people is a potential threat to security. If victims aren't shared among receiving nations, on an acceptable proportional bases leave other countries hurt, if not more burdened, compared to others. In Edge of Chaos: Why Democracy is failing the West, Dambisa Moyo, a renowned global economist, argues the ignorance of nations of making an international body to regulate migration is a new problem. Like the WTO or International Labour Commission, similar initiative climate refugees should be fostered to reduce the volatilities of this century.
At AEF, cognisance of the above issues, our vision to create "world-changing" is gaining traction in linking emerging entrepreneurs and artist in Africa to investors across the world. We hope together we can create a future we want!
Biswas is an aspiring Chartered Accountant and studies at the University of Johannesburg, South Africa. He prefers all things entrepreneurial, with interest in Strategy, Digital Transformation and Innovation Capital in Africa.