Mobile money has exploded in popularity in Africa. In 2020, the continent counted more than 500 million mobile money accounts, which is far higher than any other continent. Further, more than 500 companies now provide fintech solutions, such as mobile money, which have created a new environment for businesses and people to prosper. Since 2009, telecommunications companies and global technology corporations have invested in the establishment of undersea cable systems and terrestrial landing stations in Africa. This has boosted connection speeds and brought internet access to various regions. As a result, the continent's internet bandwidth capacity has grown by more than 50 times, from 0.3 Terabyte per second (Tbps) in 2009, to 15.1 Tbps in 2019.
East Africa, in particular Kenya, Rwanda, Tanzania, and Uganda, has the world's highest mobile money penetration rate. For every 1,000 adults in the region, there are 1,106 registered mobile money accounts, compared to 600 for the whole of Africa, 533 for Asia, and 245 for Latin America and the Caribbean.
East Africa, in particular Kenya, Rwanda, Tanzania, and Uganda, has the world's highest mobile money penetration rate. For every 1,000 adults in the region, there are 1,106 registered mobile money accounts, compared to 600 for the whole of Africa, 533 for Asia, and 245 for Latin America and the Caribbean.
The number of mobile money agents in Kenya has increased from 307 in March 2007, to over 240,000 in March 2020.
In 2015, the volume of transactions using M‑PESA, a mobile domestic money transfer and financing service from the region, reached 45% of Kenya's GDP. Companies such as M-KOPA provide affordable electricity from solar power, which has reached 750,000 homes and businesses across East Africa.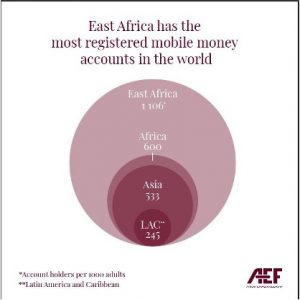 However, despite the boom in the use of digital services, Central Africa is struggling to increase its Internet Penetration rate in different sectors. Due to major structural constraints, the economies of Central Africa are making slow progress in creating digital jobs. Less than 48 out of 100 people have access to electricity, while the mobile phone subscription rate (66.9%) remains ten points below the African average. Only 9 out of 100 people use a computer in Central Africa, due to the lack of decent Internet and 4G access in the region. In 2018, only 25.8% of the population in the region had access to the Internet, compared to 34.2% in the whole of Africa. Despite policies to enhance 4G coverage, only 34.2% of the population in Central Africa was covered by a 4G network, compared to 48.77% across the continent (Landlocked countries such as Chad, the Central African Republic, Burundi, and the Democratic Republic of the Congo, do not have direct access to submarine cables). Only Cameroon, with its network of relay antennas, has a coverage percentage of 78%.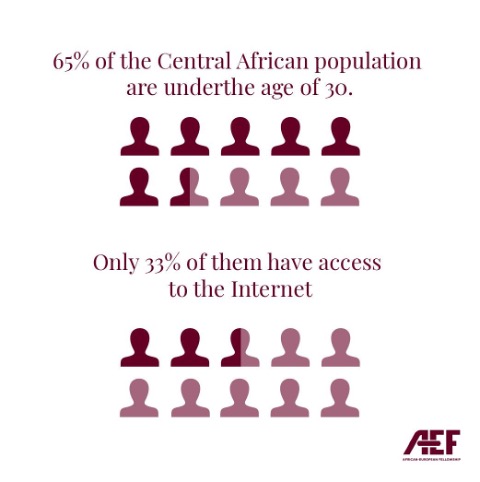 Gabon, as a precursor, has successfully invested in the development of undersee cables, landing stations, and a terrestrial network. As a result, since 2010, the number of internet users has increased sevenfold. In addition, the cost of internet access has been reduced by a factor of 10, resulting in an increase in Internet Penetration from 28% to 48%.
"The unrealized potential of Central Africa can be fulfilled through regional investments in digital infrastructure that enhance internet availability and affordability. It would ease the school-to-digital-work transition through public-private collaborations as well."
North Africa is the best‑connected region on the continent with an average mobile phone penetration rate of 81.7% and 4G coverage of 83.4%, in 2020. This is due to a favourable ecosystem characterised by strong government support and a good level of education. North Africa's digital potential has enabled it to boost corporate communication through websites and to develop e-commerce platforms. With 57% of businesses having a website, Egypt, Morocco, and Tunisia are the three North African countries with the most fintech start-ups, offering massive marketing opportunities. The development of e-commerce, which is experiencing an annual growth rate of 6.2% over the 2005-17 period, is enabling the development of a new economy that encourages the creation of quality jobs for the benefit of young people in North Africa. Egypt was one of the first African countries to establish technology parks (Polaris Parks, Engineering Square and Maadi Technology Park). The government launched the Smart Village Cairo plan in 2001, a public-private partnership tech-park for international software companies (such as IBM, Cisco, and Microsoft), government offices, research centers, and a variety of other local technology firms.
Even though the number of mobile subscribers continues to rise, West Africa's digital connection remains limited due to a lack of well-developed communications infrastructure. Furthermore, the high Internet connection costs that arise discourage the usage of applications or technologies that require a continual connection. In Côte d'Ivoire, for example, 20 gigabytes (GB) of mobile data costs EUR 30. In Europe, however, the same provider sells packages with free phone calls and SMS and 100 GB of mobile data for only EUR 19.99. Despite the advantages of marketing and access to a large client base, only 24% of all West African companies have a website. This proportion is even lower among small businesses (14%). Furthermore, 36% of large businesses do not have a website, indicating a lack of digital coverage and the domination of the informal sector, particularly in small countries with limited communications infrastructure, such as Sierra Leone, Liberia, and Guinea-Bissau. Ghana, Côte d'Ivoire, Senegal, and Nigeria have coverage rates that are higher than the regional average. Because of their dynamic economies and potential for digital infrastructure, they receive the highest rankings in the region. Yabacon Valley and the Ekovolt system in Nigeria, the Information Technology and Biotechnology Village in Côte d'Ivoire (VITIB in French), and the Meltwater Entrepreneurial School of Technology (MEST) in Ghana are all leading examples. The number of active tech hubs increased from 84 to 142 between 2016 and 2018. The majority of these originate in Nigeria, which has Africa's most vibrant start-up scene with an estimated capital value of USD 2 billion in 2017.
Southern Africa has a well-developed Internet infrastructure that allows it to link to most intermediate and large population centres. In Southern Africa's intermediary cities, the network reaches 71% of the population, the greatest rate on the continent. The South is undergoing a digital transition at two speeds. In countries of the Southern African Customs Union (SACU) − Botswana, Eswatini, Lesotho, Namibia and South Africa – the latter provides the core of a dynamic digital economy in the region, with up to 1,200 active digital start-ups in several sectors (with around 60% of them situated in Cape Town). During the last two decades, the South African government has taken various initiatives to develop e-government in the country. Several programmes have proved relatively successful. The Khanya Project, for example, was founded in 2006 with the goal of enhancing teaching and learning at primary and secondary school levels. By the end of July 2011, 90% of the 1,570 government schools in the Western Cape had obtained 46,120 computer technologies in use. In contrast, non‑SACU countries − Angola, Malawi, Mozambique, Zambia and Zimbabwe − are still in the early phases of digitisation, with only 25% of the population having Internet access. Weak infrastructure and poor educational outcomes are preventing the large pool of informal workers from adopting and benefiting from digital technologies. Worse yet, in Angola, despite relatively good coverage, mobile penetration has been decreasing since 2014 due to the combined effects of an economic slowdown and the lack of competition in the telecom market.
Africa's digital transformation points to a favourable trend. However, as many regions and countries seem to improve their infrastructure, a huge lack in transferring the resulting technologies to the population still exists. The fact that only a small percentage of companies have a website demonstrates, on one hand, how difficult it is to afford the necessary devices. And, on the other hand, the lack of expertise to create them.
With the right policies and measures, Africa's full potential may be realized, allowing it to address many of its problems. Africa's technological infrastructure should be used to bring more women into the labour market and shrink the gender gap. It should provide education to people in rural areas, encourage the youth to learn computer skills, and create more jobs and opportunities.
By Djamal Gandi